Spin Blur, Zoom Blur, Spiral Blur
I got to do this great demo at Macworld 1999 (in San Francisco.) I demoed Photoshop's zoom blur.

For 2 minutes a pop.

I'd talk straight for two minutes, waiting, while they blurred a 640x480 image. And then, finally...

finally...(sorry, thought it was going to apply already)...

they'd finish, and I could zoom in and show how noisy the result was.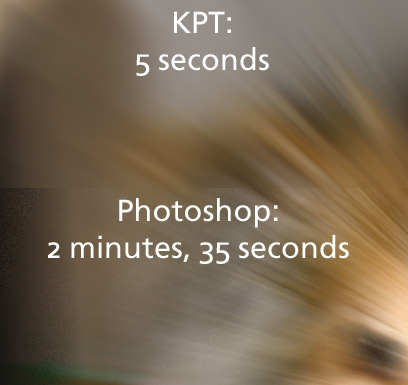 Cropped from a 1280x900 image.
And then I'd run the KPT equivalent, wait about a 5 seconds, and show how it was a better-quality result. It was really fun.
I thought it would be more fun to post some old emails about how this filter came to be, rather than just droning on in here. So in the voyeuristic way that everybody loves to read other people's email, here ya go:
Mike prototypes the filter and sends pictures.
Mike gets the filter working and tells everybody.

Like the motion blur above, these blurs use a Gaussian kernel that tapers near the edges, rather than creating hard boundaries.
The spiral blur is a true generalization of the two. Where Spin is a 0-degree rotation, Zoom is a 90-degree rotation, Spiral lets you choose any angle in between -- a whole continuum of possibilities! You can generate spirals of any kind moving towards the center of an image.
Tip: since all these blurs are centered in the middle of the image, try adjusting the canvas size to change the center point before applying the filter (yikes, that's work!)
Gaussian Weave, Spiral Weave
There's not actually much to say here, but it is cool that Moe & I literally did these two filters in an hour, total.

They basically use a "maximum" (Lighten in Photoshop) to apply two blurs on top of each other. For the Gaussian case, it's a 1-D Gaussian. For the Spiral Weave case, it's two spiral blurs that have opposite angles (they add up to 90 or 180 or something.) You can make really cool effects with this thing, but there's not a lot of depth to talk about!